Handheld Wireless POS Code Scanner
Handheld Wireless POS Code Scanner
Leabon

Guangdong, China (Mainland)

3-5 days

20000pcs/month

XB-5066RT
1. High Resolution Laser Scanning Engine
2. BER as low as 1/5 million
3. Automatic Storage beyond Distance
4. Data Upload Vibration Tips
5. Electric shock charging with base
Advantages:
Welcome to Dongguan Qingwu Scan World!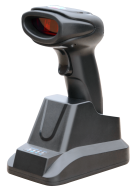 1, Ergonomically design: comfortable and convenient operate.
2, longevity and shock resistance: more than 50 million times button life
3, Faster and accurate scaning, and powerful decoding.
4, Simple and easy set, and online update supported.
5, Factory supply directly & 10 years manufacture experiences.
Applications:
For the occasions of large-quantity scannings and small barcodes scannings:
1. Commercial POS system (shopping malls, stores, supermarkets)
2. Logistics and warehousing
3. Industrial and manufacturing management
4. Public services: goverments, taxation, libraries, banks, telecom, postal service, insurance, medical, tourism, etc.